With a facial!
Don't you just love the selected works of Salt N Pepa? I sure do.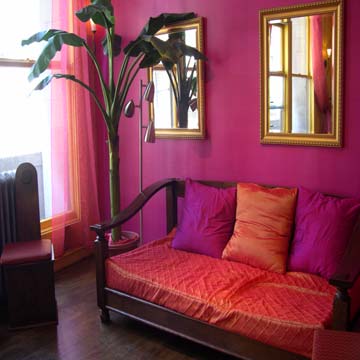 I hesitate to admit I've NEVER HAD A FACIAL before last week. I know, it's shameful. With all the money I spend on beauty products and procedures (not to mention clothing and accessories), I just couldn't rationalize spending more money on a treatment that doesn't immediately manifest visible results. Similarly, I am loath to get massages (other than a 10 minute one at the nail salon). It just felt too indulgent or something. That was pre-Saroj, mind you.
I had the opportunity to test out a facial performed by Saroj at the Shobha Salon in Soho (located at 594 Broadway, Suite 403 between Houston and Prince Streets) and am hooked. I chose the Shobha Clean-Up with Natural Peel($90). The process took about an hour and initially, the hardest thing to get used to was the fact that someone else was blowing my nose for me. Quite necessary, however, as the various masks and cleansers used do get into your nasal region. Post-facial, I felt refreshed, cleansed, and relieved of all the gunk I'd evidently been harboring in my pores. After several products had been expertly massaged into my face, and I'd been under herb-infused steam for ten minutes, Saroj did a pore extraction. Not exactly pleasant, but not as painful as I expected. The Shobha staff are such dolls. I plan to try their waxing and threading treatments as well. Stay tuned!
P.S. Facial treatments with new specialists are 25% off if you go before November 11. Hurry!
Shobha has two other locations if Soho doesn't work for your lifestyle:
Shobha Madison
595 Madison Avenue @ 57th Street
Shobha Columbus Circle
1775 Broadway, Suite 730
Photo credit: Shobha