I've been 12 kinds of into Alias these days, ladies (I'll just say it… I'm pretty sure no men read this blog). I have harbored a girlcrush on Jennifer Garner since 13 Going on 30 and just received Season 1 of her award-winning series Alias from my brother Ethan, to help me with my LOST withdrawal. Did you know that LOST creator J.J. Abrams ALSO created Alias? I'm still in Season 1, but already, I've seen 2 familiar LOST faces. SO exciting. What's better than LOST actors AND Michael Vartan (who sort of resembles a turkey, but is still the mayor of CuteHampton, somehow)? Not one thing. Anywhoodle, I've been trying to recreate the signature Sydney Bristow lippy look ALL week and I've realized that the only way to do it is via a lip stain. A) They're long lasting so you won't have to reapply whilst undercover in say, Argentina and you're too busy ju jitsu-ing with another spy B) They're matte, but not Sharon Chersky matte C) They make lips look larger and more authentically large than gloss. I haven't investigated into why that is, I'd think making something lighter and shinier would make something appear bigger. But painting on a little stain 2 or so shades darker than your natch one makes them pop rather than recede. Bonus: You can also use them on your cheeks for a blush marathon.
My Top Lip Stain Faves: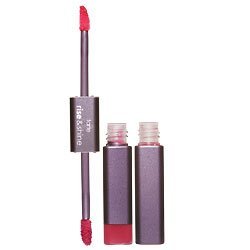 tarte Rise & Shine: This one even comes with a vanilla-flavored, plumping gloss on the other end. I rock the mauve combo especially when I know I'm going to be paparazzi'd. $21.00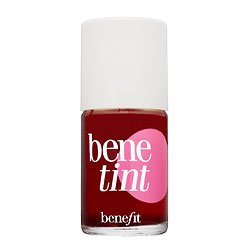 Benetint: Aaah, my first lip stain, the reason a lot of my makeup and even my passport is stained with hot pink. Very rose/pink, but fun for a "I was just eating a bowl of cherries" look. $28.00

Bella il Fiore Double Agent: Love all three colors: 001 (middle), 002 (bottom), and 003 (top). Bella il Fiore was CLEARLY on the same page as I when they named their lip tint wands. The felt-tipped pens don't spill and are easy to apply. A bargain at $12.00. The marker/highlighter appearance of these is so undercover, you'll swear it was designed by Marshall himself.
Photos courtesy of amazon.com and beautycafe.com.