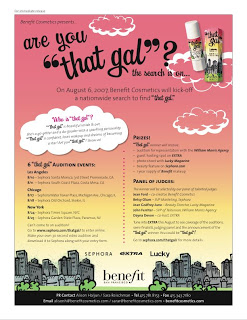 Benefit has asked me to notify you all about a talent search they're hosting for "that gal". There will be 6 events at Sephoras nationwide, beginning with a huge kick off party at Sephora in Santa Monica on Friday, August 10.
Gals can come to the events, get their "that gal" makeover and make a 30 second audition tape telling everyone why they should be "that gal". Not near an event? No problem! Log on to www.sephora.com/thatgal/ to upload your own video!
The winner of this fabulous contest receives: a guest hosting spot on Extra, her photo in Lucky Magazine and on Sephora.com, an audition for talent representation with the William Morris Talent Agency and a year supply of Benefit makeup!
Ummm… I think I may need to be "that gal." What's better than being on TV, being in Lucky AND a year's supply of Benefit? Not one THING.