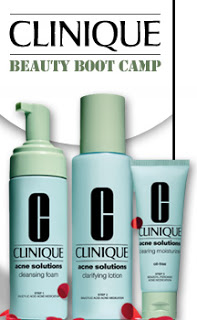 Hi friends! This contest looks fab, so I thought I'd let you all know about it. What's better than free Clinique, hanging out with a celeb, a possible MacBook AND a tour of Teen Vogue? Just the possibility of the latter is enough to inspire me to enter this contest myself. Though I'm 27, I still have a 5 year subscription to the mag. WHAT.
Here are the deets:
Take the Challenge: Use the Clear Skin System for at least a week then post your Before and After pics with a short description of how clearing up your skin made you feel!
Grand Prize: Total Celeb Treatment! One winner will receive a complete makeover, photo shoot with Emmy Rossum, and a $5,000 cash prize.
Score! The winner will also receive:
* A guided tour of the TEEN VOGUE edit floor
* An exclusive appointment with a TEEN VOGUE stylist
* A goodie bag filled with Clinique and TEEN VOGUE swag
Runners Up: Score 1 of 5 Apple® MacBook® computers!
Click here to join.
Photo courtesy of Clinique North American Marketing.