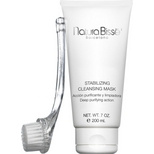 I don't know if it's the weather, or the fact that I've been trying several moisturizing/cleansing suites of products the past couple of weeks or that I've been away and haven't gotten enough sleep in the frat-tastic sleeping conditions or WHAT, but my skin is FREAKING OUT. So after a fun but tiring weekend in the Hamptons, I was so glad to come home to my own apartment with my own bedroom and a refrigerator full of produce after a weekend of pretty much nothing but FRIES. I was even more thrilled to use my Natura Bisse Stabilizing Cleansing Mask before going to bed at 8pm. My skin has definitely calmed down and is smoother to the touch after keeping it on for a mere half hour. Before bed, I also put a bit of the mask on problem areas and woke up to find them less red and close to clear.
Sidenote: This weekend, I was glad to learn that I can still recite all of the words to Jay Z's "99 Problems" on command. Whew.
Check out the mask at banler.com.
Photo credit: barneys.com