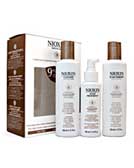 For big special occasion hair, this set includes my newest my go-to shampoo. The conditioner, unfortunately, is not so super for my hair. I need something a bit more moisturizing. But I'm loving combining the shampoo, a rich conditioner (as you know, I adore Kerastase Oleo Relax Hair Masque), and the scalp treatment spray (that I've actually been using daily) before adding some Maxius' The End to the bottom portion of my hair. I know you're supposed to use all of the products in the kit, but what can I say. Fabulista is a rebel.
Another bonus: the minty-on-my-head sensation. Because I'm the dream consumer I always appreciate feeling something "working". I'm one of those people targeted by marketing teams when they change the formula simply to add more foaming capabilities so the customer is more satisfied with her lather. This stuff is phenom for anyone with fine hair (don't be fooled, it's not only for thin-ING hair). It includes an ingredient called BioAmp to add thickness and strength to your strands while Glyco-fused Complex keeps your scalp from getting irritated.
Fun fact: this specific formula for color-treated hair also rids you of dandruff as my friend J's stylist informed her.
Happy Fourth to all of my Internet friends!
Photo credit: Beauty-Mart.com