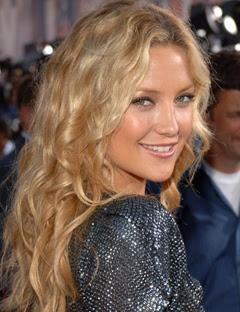 I've discussed this before, but I've gotten requests for info from a few readers on how to achieve big waves a la Kate. My friend C actually thought that mine were NATURAL. Ha! Pretty much not one thing about my appearance is naturally achieved. I don't mean that in a plastic surgery way (I have yet to delve into that arena), I just mean that every single look I rock is the result of SEVERAL prods, and usually some heat tools.
Here's my tried and tested regime (which has been an evolving process since 2003):
Step 1: Wash and condition with a serious conditioner. Lately, I'm loving the Grassroots Perfect Condition Deeply Moisturizing Shampoo and Kerastase Masque Oleo Relax.
Step 2: Step out of the shower, squeeze hair dry with your hands, add a dime-sized dollop of conditioner to your ends. I know it's not leave-in, do it anyway. Skip it if your hair is not heat or color damaged.
Step 3: Spray in some thickening spray; I prefer Bumble and bumble's.
Step 4: Apply a bit of shine serum (like John Frieda's Frizz Ease) to the ends of damp hair.
Step 5: Dry hair using the Marilyn brush and a straightening attachment on your dryer.
Step 6: Once dry, separate the top 30% of hair with a clip and spray the roots UNDER it with Bumble and bumble's Hair Powder Spray in the color that matches your hair (I use blondish). This gives you bigger hair, which you can then claim is full of SECRETS.
Step 7: Once hair is 95% dry, use a 1 1/2 inch curling iron with the clamp removed (seriously, use your tool box for the 3rd time in your life) to curl 2 inch sections. Here's how: wrap section around the wand (careful not to burn your hand or ear as there is no clamp–BTW, clamp = prom hair = not sexy). Be sure to keep the end of your hair uncurled–just the last inch or so. Hold for 30 seconds, remove iron and spray. Repeat. Start with the bottom of hair and work up to top layers.
Alternate the direction of the curl as you work your way through the section. (It's all in the direction you wind hair around the barrel of the curling iron. This makes curls look more natural.
Step 8: Spray once all of hair has been curled. I prefer L'Oreal Elnett which is so good, it's like, illegal in the US. New Yorkers can pick it up for around $17.00 at Pasteur Pharmacy on 34th Street between Park and Madison Avenues. Seriously, it's rarely sold in this country.
Step 9: Once your hair has set (give it about 10 minutes), you can separate the curls by raking your fingers through lightly to further eliminate the prom factor.
Step 10: Finish with gloss spray; I enjoy Bed Head Headrush Shine Spray.
Step 11: Outbabe everyone at the event.