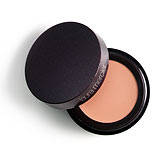 After a rough day last week, I was so pleasantly surprised to find a Sephora gift certificate and card FedEx'd to me from my friend S! I mean, is there any better way to lift my spirits? (There isn't). It sounds shallow, but really? I short mini-excursh midday during work for some Sephoria really made me feel 100% better. Thanks, S, you're THE BEST. I purchased a new Laura Mercier Secret Concealer. Have you tried this? You MUST. Combined with Hylexin, it eliminates the hell out of dark circles and hydrates to conceal any imperfections. I think it's the best stuff on the market, but you don't need to take my word for it (wasn't that SO Reading Rainbow?). For commitment-phobes, here's a list of my other fave concealers (all are for different concealing purposes).
1. Laura Mercier Secret Concealer – Love this stuff. Last week's jar was a re-purchase, the mark of an exceptional Fabulista favorite. Usually, my beauty-related ADD won't allow me to re-purchase the same old as more often than not, a more technologically advanced new brand has come out. I plan to write an entire post about my short list of Fabulista loyalties.
2. Benefit Boi-ing – What I THOUGHT was the best stuff until I learned about Laura Mercier. Does the job, but lacks the hydration aspect. Better for those with more oily skin.
3. Sonia Kashuk Hidden Agenda Concealer Set – Comes with 3 colors and a powder that I don't use because I'm anti-aging-before-I-need to. (Powder = Aging). The 3 colors combine to suit everyone's skin tone. And it comes in adorable packaging with a mini-mirror. I keep mine in my purse. So affordable at $9.99.
4. Givenchy Mister Light Corrective Pen – FANTASTIC creamy concealer that illuminates your undereye area. Another gem from the Julia bag of delight! Love the packaging. Dot it directly under eyes and pat with your fourth finger to look uber glam.
5. Clinique Acne Solutions Concealing Stick – The best stuff for concealing zits whilst medicating them. Comes in a skinny skinny pen packaging with the tiniest tip to allow you to conceal only the imperfection and not the surrounding area.