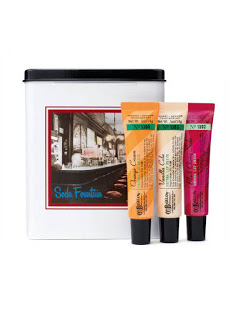 The gloss everyone must rock, CO Bigelow has come out with a special soda fountain edition! It includes Vanilla Cola, Black Cherry Soda and Orange Cream. Seriously, if you don't own any of these, you simply must purchase some immediately. Personally, I own about 6 of them, and have fully used up about 3 already. Who actually uses an entire balm or gloss? I think this is a first. Usually something is invented by the time I'm still mid-tube that's vastly superior and alas, said tube gets relocated to my ever-growing gloss-drawer from my purse.
P.S. They're 3 for $15 right now at Bath & Body Works.
P.P.S. Black Cherry Soda tastes like a fancy maraschino cherry.